Рик Паркс (Rick Parks) – один из тех, кому мы обязаны представлению об Амиге, как о платформе с лучшей пиксельной графикой. Впервые его рисунки появились на Амижных BBS в конце 80-ых, и именно эти рисунки я скачал с Аминета, переконвертировал в PC-форматы и выкладываю сейчас на наш сайт. Заслуга тут конечно по большей части Fred Fish, который собирал все, что было сделано на Амиге, на своих сборниках.

Постараюсь отобразить картинки в хронологическом порядке.
Name : EINSTEIN.ARC
9/25/89 3:22
Title: WONDERFUL PICTURE OF ALBERT E.

This is an absolutely wonderful hand-drawn picture of Albert Einstein
by an artist named Rick Parks.
The picture is 320x200 lo-res 64 color HALFBRITE mode - so you need
the Rev. 6 Denise Chip in your Amiga to be able to view the picture
as intended. All Amiga 500s and 2000-series computers have the
halfbrite-capable Denise. Only some Amiga 1000s do but they can be
retrofitted with it (see your dealer).
Look out Jim Sachs.. this guy Parks is VERY talented.
Enjoy
Name : MICKEY-GLASS.ZOO
Date: 10/19/89 22:39
Title: RICK PARKS, MICKEY MOUSE GLASS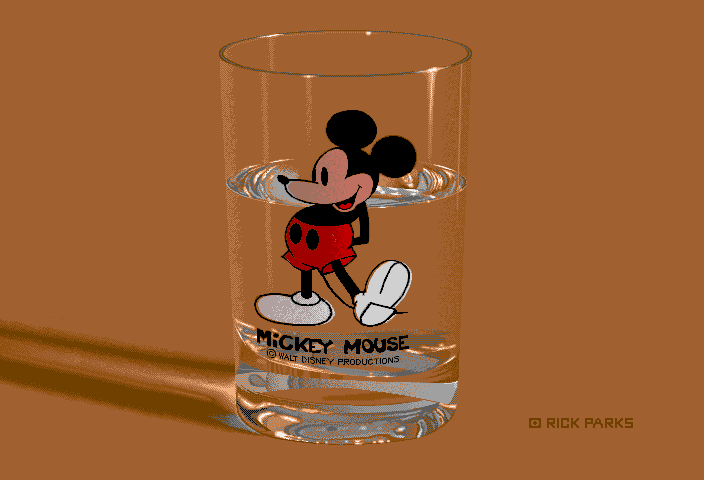 For all you Rick Parks fans out there, this is an astounding picture by Rick
Parks. If you liked Einstein, this one will amaze you even more. The detail
is amazing. Even if you never download pictures, you should get this one.
Share it with your friends, artwork this good should be shared.
Released to the Public Domain by Rick Parks.
---
Note: picture format: 16 color High resolution 704x480 overscan.

Name : LION.ARC
Date: 11/06/89 23:38
Title: LION


This is the best Hi-Res picture of a lion ever done. I has been done by rick parks and more is to come. If you ever seen his work before you will know it is worth downloading.

Name : RICKSPIX2.LZH
Date: 12/30/89 0:40
Title: RICKS PIX 2


2 more of Rick Park's originl artwork, uploaded to the capital district
Amiga users BBS for distribution.
The pictures are Falconer and Clipper.
As usual they are astounding. I hope you enjoy them.
Clipper is 320x400 Interlace Half-Brite
Falconer is 352x240 Half-Brite

Name : RIXPIX.LZH
Date: 6/02/90 9:01
Title: MORE FANTASTIC RICK PARKS PIX



Rick Parks just uploaded these pictures to the capital district Amiga users
group BBS tonight, and gave me permission to distribute them.
I know HARV had been waiting for these, so for the first time:
STYMIE - the Little Rascal
NORMAN - Ricks AMIGAWORLD Cover
BRYCE - A beautiful canyon in Nevada
If you know Rick's work, I'm sure that you will be eager to download these.
If you're not familiar with Rick's work, do yourself a favor & download these.
Enjoy them & Share them!

Name : LINCOLN.LZH
Date: 8/14/90 20:53
Title: ABE LINCOLN BY RICK PARKS



Here's another Rick Parks picture - a stately portrait of the
16th President of the United States - Abraham Lincoln.
320x200 low-res HALFBRITE mode (so it may look slightly funny if
you've an older A1000 without the halfbrite-capable Denise chip which
all 500s, 2000s, and 3000s have).
Another picture from a very talented Amiga artist.

Почти сразу талантливого художника пригласили в Westwood, где он до своей смерти в 1996 году оставался лидером и главным специалистом по художественной части и дизайну. Именно благодаря ему мы можем наслаждаться замечательным артом в ставших уже классикой DragonStrike, Legend of Kyrandia, Eye of the Beholder, Lands of Lore.
Несколько ссылок:
Графика из Dragon Strike
Видео из игры Lands of Lore 2, которое посвятили сотрудники Westwood Studios Рику Парксу, после его смерти